10th July, 2016
"New Style makes New Value – the ecoffin" showed remarkable progress at the Business Fair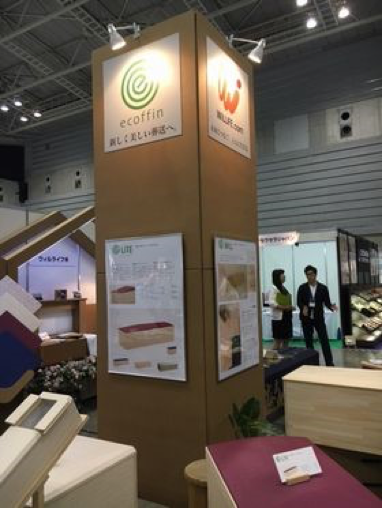 WiLLiFE K.K (Tokyo, Japan) exhibited and introduced its line-up of ecoffin products at the Funeral Business Fair held on July 5th and 6th at the exhibition hall of Yokohama Pacific, Yokohama-City in Japan.
The main material for all five of these ecoffins is Tri-Wall's Bi-Wall Pak or a combination of Tri-Wall Pak and wood from forest thinning. During the past several years WiLLiFE and Heiwa Casket have worked hard in developing eco-friendly coffin products using Tri-Wall Pak and Bi-Wall Pak. They have learned how to make use of Tri-Wall materials and how best to design each ecoffin so that it is acceptable to the market.
Mr. Masuda, President of WiLLiFE says, "During this two-day exhibition, we received numerous interesting inquiries, not only to supply ecoffin products, but also to develop new items such as display items, which use Tri-Wall Pak".