26th April, 2023
Rengo Subsidiary TRICOR Packaging & Logistics to Construct New Plant

Rengo Co., Ltd. announces that its consolidated subsidiary Tri-Wall Limited and Tri-Wall's subsidiary TRICOR Packaging & Logistics AG have decided to construct a new TRICOR plant in the state of North Rhine-Westphalia in northwestern Germany.
Centered around its headquarters plant (corrugated board plant) in the state of Bavaria in southern Germany, TRICOR designs, manufactures and supplies heavy duty packaging materials, namely industrial & heavy duty corrugated packaging and wooden pallets, including logistic services, at plants with high degree of automation. Recent demand growth in Germany and surrounding countries induces new plant deployment to increase production capacity and to meet the increase in demand. With a total investment of approximately 170 million euros, the new plant will be a state-of-the-art corrugated board plant that incorporates Germany's latest technologies to further advance the automation. Rengo believes this new plant brings innovation to the industrial & heavy-duty packaging industry and aims to complete the construction in July 2025. In addition, it is also designed to be a plant that gives consideration to the global goal of carbon neutrality by 2050 and gives even further consideration to the environment.
The operation of the new plant will enhance the supply system to deliver products more quickly and meet wider range of packaging needs. At the same time, this new plant promotes the further expansion of the Rengo Group's global heavy-duty packaging business.
Overview of Tri-Wall Limited
Location: 19/F., Chu Kong Shipping Tower, 143 Connaught Road Central, Sheung Wan, Hong Kong
Representative: Yuji Suzuki, Chairman
Main business: Headquarters of the group's manufacturing and sales business for heavy duty packaging materials (corrugated packaging, etc.)
Overview of TRICOR Packaging & Logistics AG
Location: Jakob-Müller-Straße 1, 86825 Bad Wörishofen, Germany
CEO: Robert Wiblishauser
Main business: the design and production of standard as well as customized industrial & heavy-duty corrugated board packaging solutions, including logistics services, for the automotive, chemical, engineering, electronics industries and other constructive packaging segments.
Overview of the new plant
Location: Gocher Grenzweg, 47574 Goch, Germany
Total site area: Approx. 166,000 m2
Products: Industrial & heavy-duty corrugated board packaging solutions and logistic services.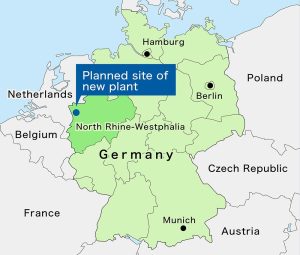 Conceptual image of new plant on completion