13th December, 2022
Tri-Wall Group Awarded Silver Medal by EcoVadis in 2022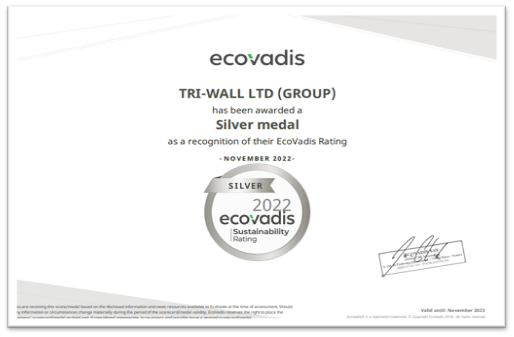 We are delighted to announce that the Tri-Wall Group has received a Silver Medal rating from EcoVadis in recognition of our practice and achievements in Corporate Social Responsibility in 2022.
The EcoVadis overall score reflects the quality of the company's sustainability management system at the time of the assessment. The medals' criteria are reviewed and elevated periodically, and we have secured our ranking by improving the percentile rank of Tri-Wall from the top 30% to the top 17% in the industry.
We will aim at further progressing our CSR effort and to strengthen the Tri-Wall Group's contribution to corporate social responsibility and sustainable development. Meanwhile, we will appreciate the support and input from all parties which are very valuable for the company's pursuit of a sustainable future.