3rd July, 2020
WiLLiFE Relocation Notice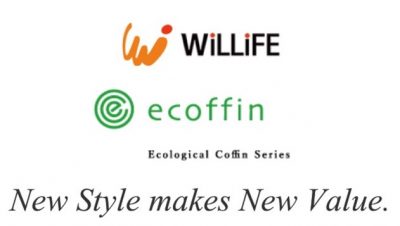 New Style makes New Value – it is WiLLiFE's business motto. WiLLiFE started their business by introducing eco-friendly coffin products using Tri-Wall board materials in May 2002. Since then, WiLLiFE has introduced various new styles of eco-friendly coffin products (Ecoffin).
Each new style of Ecoffin products has its own unique value. Ecoffin Noah was developed with a concept of "Fostering a new future on the Earth". By utilizing materials like Tri-Wall board, which is light weight and strong, Ecoffin Noah was designed as a very light weight Ecoffin model that also can be covered with a selection of different cloths. Ecoffin Noah contributes to WiLLiFE's CSR activity. For every Ecoffin Noah that is consumed, one tree is planted in Mongolia. With the support from the Tri-Wall Group, more than 540,000 trees have been planted in the Tri-Wall Life Forest in Mongolia.
On June 1st, 2020, WiLLiFE moved their office to a new location in Yokohama which also serves as their show room. At same time, WiLLiFE moved their registered office address to Tri-Wall Japan's HQ office in Minato-ku, Tokyo. Their new office & show room are much larger compared to their previous office.
Having a new office with show room space, WiLLiFE is seeking to develop new potential opportunities by utilizing Tri-Wall materials to develop products that are not specifically packaging related. The new innovative business named, "Danbaul (which stands for corrugated fiberboard in Japanese) Works" is introducing furniture for shops and offices made of Tri-Wall boards. WiLLiFE promotes these challenging works with the help and collaboration of designers, planning firms, and Tri-Wall Japan's processing technology.
While it is difficult to do so under the COVID-19 pandemic condition, please visit and see our innovated works at our new show room. We will always welcome you whenever you can visit us. Thank you for your interest in WiLLiFE's innovative works!
WiLLiFE
Registered Office:
7/F., Shinagawa Season Terrace,
1-2-70 Konan, Minato-ku
Tokyo 108-0075 Japan
Sales Office and Show Room for Ecoffin Products and Danbaul Works:
1-15-2 Hakusan,
Midori-ku, Yokohama-shi,
Kanagawa-ken 226-006 Japan
Tel: +81 45-532-6875
Fax: +81 45-532-6867
Email: info@willife.com
Website: https://www.willife.com/