E-Star pack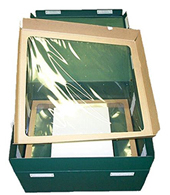 Materials: Paper carton + elastomeric polyurethane film
Features: E-Star pack is durable and reusable. The boxes can be quickly and easily collapsed and folded, simplifying storage and saving space.
Elastomeric Polyurethane Film
E-Star pack's flexibility and durability are due to the simple yet elegant Elastomeric Polyurethane Film cartridges that can "sandwich" items of almost any shape, suspending them firmly and securely within the pack. The film also protects from electrostatic dust contamination.
Printer

LCD Monitor

Spare Parts

Single Notebook PC

Multiple Notebook PCs

Chair

LCD Glass

Express Box

Clothes

Toolbox